What determines the quality of a giclée print?
The inkjet printer and the ink used. The inkjet printer itself must use cartridges of at least eight different colors of pigment ink (instead of dye ink). It is of course important that the original cartridges are used from the brand of the printer itself.
 
The settings of the printer. Top printers can be set for both quantity and quality. Many providers therefore appear to opt for quantity, which does not benefit the quality. A giclée canvas print must be printed with a minimum resolution of 1440 dpi.
 
The material from which the canvas used is made. Canvas is available in polyester, cotton and a polycotton blend. For a reproduction of art or high-art for a museum, a canvas, made of acid-free and 100% cotton, is still the standard.
Today, polycotton canvases can be produced so well that they are increasingly used. This is certainly a good option for photography, because the results are often better. An excellently produced canvas of a polycotton mix can be many times better than a canvas of 100% cotton, which is cheaply produced in China, for example. Some top brands include Breathing Color, Fredrix, Hahnemuhle, Innova and of course the canvas from Epson, Canon and HP itself. Polyester canvases are a cheap variant and are not used for giclées.
 
Color management. Making a correct print is not just one push of the print button. With the help of professional software and color management (the use of the correct ICC profiles), the print comes as close as possible to the original photo or painting.
High art and decor art giclée
Giclée prints can be broadly divided into two categories:
The real museum quality giclée (Fine Art), using the very best materials and produced by experienced and professional specialists. A giclée of the highest museum quality can last for hundreds of years, but can also cost thousands of euros. Top quality giclée`s can be found in world famous museums such as the Metropolitan Museum New York.
 
The decorative giclée (Decor Art). These are cloths that are manufactured for the decoration of a home or an office. A good giclée print within this segment has rich colors and a deep contrast and is produced in such a way that it lasts for many years (up to 80 years).
There is a large price and quality difference between the various providers. These providers vary from large retail chains to small shops that offer their products, physically or via the internet. The price does not always say something about the quality of the product offered.
Unfortunately, there are countless providers who sell "normal" photo prints such as giclée and High-art, while these paintings are made in masses with inferior materials from cheap production countries and printed with normal photo printers or Solvent printers. In practice it appears that with many of these cloths the colors fade quickly and they quickly "yellow".
That is why you should always be well informed about the origin of the materials and the production method.
Good and reliable suppliers of reproductions and photo prints on canvas will always be open and honest about their quality and provide as much information as possible on their website about their products or are willing to answer your questions. Make sure you get the right quality for the price you pay!
Canvas Fotokunst is not a provider of mass production, but focuses within the top of the segment on offering exclusive art photos on canvas at the best price-quality ratio. Each giclée photo painting is individually made for you. For more information about our product quality, please refer to the "our quality" page.
baklijsten
BAKLIJSTEN
Laat uw canvasdoek nu inlijsten in een zgn. baklijst!
Geeft extra diepgang en staat nog luxer...
mail naar info@canvas-fotokunst.nl voor prijzen op maat.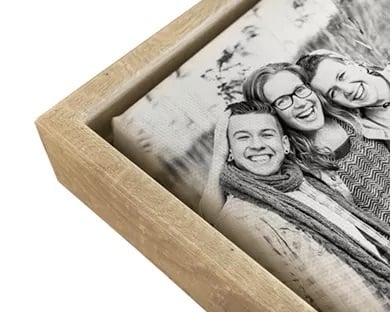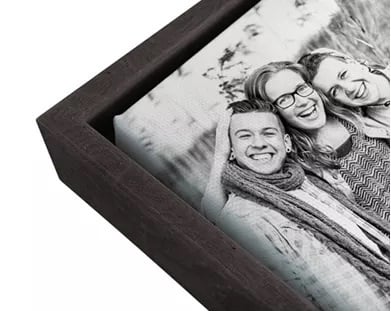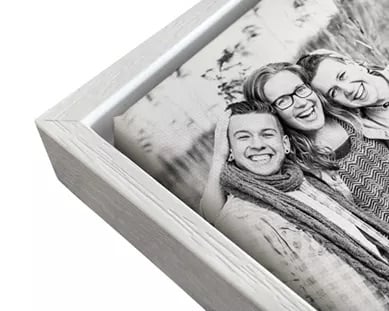 maatwerk
Ook printen wij op acrylglas, tuindoek, fotobehang, aluminium, dibond en diverse soorten hout!
Mail ons voor uw wensen en wij doen ons uiterste best om deze te vervullen.