CANNABIS

DUTCH WEED:
Beautiful photo of this beautiful, useful, strong plant..Hemp
When most people think of the cannabis plant, they think of Dutch weed and hashish. But this plant is truly at home in all markets. For centuries it was…

€ 149,95

INNOCENCE WHITE

Beautiful canvas with a woman in difficult pose. beautiful as 1 hatch, but of course also possible in other sizes and other materials

€ 149,95

MACRO FLY

Nice macro shot of a fly. In all its "facets" (eyes) a beautiful image that is extremely

comes into its own on plexiglass (colours, depth, gloss)Available in various sizes on plexiglass or other material

On canvas as 1 panel or…

€ 149,95

OLD FACTORY HALL

Beautiful photo of an old factory empty. Industrial, lots of color, available in all sizes and beautiful on plexiglass!

€ 149,95

Turquoise Tunnel Painting

Beautiful abstract wall decoration in the color petrol.
With this beautiful turquoise canvas you can easily give your room a new modern look.You can buy this contemporary wall decoration in the color blue-green, also called…

€ 149,95

ABSTRACT EARTH COLORS

Abstract painting in earth colors on canvas.
With a new large canvas on the wall, you instantly give your interior a different look. Due to the earth colors and the abstract character, this beautiful wall decoration fits well on…

€ 149,95

The Fine Lines

Modern canvas triptych painting stripes.
Bring some dynamism and color to your interior with this fun canvas of colored lines.The colors of this art print include: red, green, yellow and orange.

€ 149,95

Green Explosion

Green painting on canvas (triptych). Are you looking for abstract wall decoration with a soothing look? This green canvas image will add style and atmosphere to your decor.

€ 149,95
Modern paintings online Are you looking for a large modern painting or nice contemporary abstract art for the wall in your (new) home or office?
In the Canvas Fotokunst webshop we have a wide range of abstract and modern paintings in various styles and colors for sale. You will find beautiful modern photo art in our collection for every living room, bedroom or workspace.
Abstract art
Abstract art does not attempt to depict reality. In an abstract work the colours, shapes and lines are more important than in other art directions. An abstract painting is often easier to combine with your interior, because you select a work on the colors that match your living style and there is no subject depicted that can distract from your interior. In our collection you will mainly find digitally designed abstract wall decorations, both triptych canvas and a whole.
Buy an abstract or modern painting
Before you order a work of art, it is wise to see which color and size of art fits best on your wall. Do you have a small living room or wall? Then do not opt ​​for a wall decoration that is too large. To give you an idea, hang a painting with the center of the canvas at eye level. With that idea in mind, you can estimate which size wall decoration will look best in your living room or bedroom.
Colors are also very important when choosing a modern painting. Choose art with colors that compliment your living style. You could also take into account the effect that certain colors have on our state of mind.
For example:
Red: gives energy (note, too much red in a room is not pleasant)
Green: soothing and provides balance
Orange: provides focus and energy
Blue: calming
Yellow: inspiring, good for concentration
Purple: creates creativity
baklijsten
BAKLIJSTEN
Laat uw canvasdoek nu inlijsten in een zgn. baklijst!
Geeft extra diepgang en staat nog luxer...
mail naar info@canvas-fotokunst.nl voor prijzen op maat.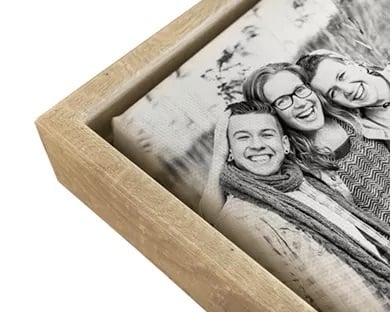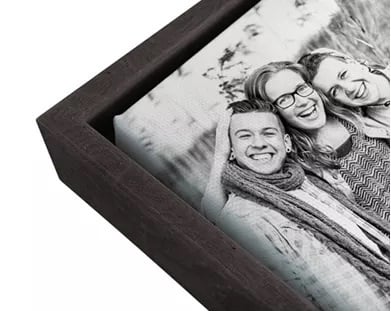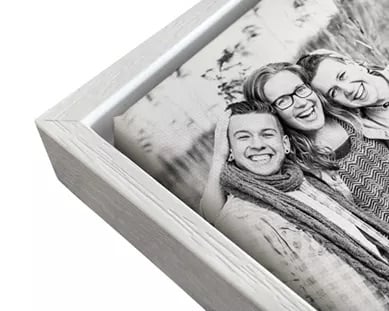 maatwerk
Ook printen wij op acrylglas, tuindoek, fotobehang, aluminium, dibond en diverse soorten hout!
Mail ons voor uw wensen en wij doen ons uiterste best om deze te vervullen.