SUNRISE

Photo painting sunrise
Pastel colored photo painting of a foggy landscape during sunrise with a tree where the birds fly out for the start of a beautiful day.You can order this canvas in the webshop as a triptych (two different…

€ 149,95

TUSCANY

Canvas painting landscape Tuscany Italy.
Beautiful canvas of the hills and vineyards of Val d'Orcia in Tuscany. The setting sun colors the scene in the warm, Mediterranean tones that characterize the Italian landscape.In 2004, the…

€ 149,95

INTO THE DISTANCE

Black and white painting sea on canvas.
Less is more! This rustic black and white canvas wall decoration with bollards in the sea is guaranteed to give your living room or bedroom a stylish finish. Dream away with this soothing…

€ 149,95

AUTUMN IN THE PARK

Photo painting autumn trees.
Canvas painting of trees in a park with leaves in beautiful autumn colors, which are so characteristic of this cozy season.
With this wall decoration you can almost smell the scent of autumn leaves.…

€ 149,95

MYSTERY FOREST

PAINTING FOREST ON CANVAS.
WITH THIS BEAUTIFUL CANVAS OF A GREEN FOREST, WHERE THE SUN SHINES THROUGH THE TREES, YOU BRING THE ATMOSPHERE OF A WALK IN THE FOREST ON A SUMMER SUNDAY MORNING INTO YOUR HOME.THIS PHOTO PAINTING LOOKS…

€ 149,95

THE MEADOW

Painting of a tree in the meadow on canvas.
Are you looking for a beautiful photo painting of a landscape? This wall decoration shows an idyllic meadow scene during a setting sun. The sunset creates a warm orange glow. In the…

€ 149,95

African Sunset

Painting sunset Africa on canvas.
There is nothing more soothing and beautiful than an African sunset. This image of an orange sunset with the silhouette of a tree in the foreground was taken in Moremi National Park in Botswana,…

€ 149,95

Italy

Photo painting Italy on canvas.
Add a touch of Tuscany to your interior with this wall decoration of an old town in Italy on canvas. Due to the warm colors of the setting sun and the architecture of the village, this canvas…

€ 149,95

WHEAT FIELD

Canvas art print of a field of wheat. Bring a warm atmosphere into your home with this fun summer photo painting of a wheat field under a setting sun.

€ 149,95

Roussillon Provence

Photo painting old town France on canvas.
Experience the atmosphere of France with this special canvas painting of the old town of Roussillon in Provence during sunset.In the example, the landscape wall decoration is depicted as a…

€ 149,95

Frozen Lake

BEAUTIFUL FROZEN LAKE ,FITS IN ALMOST EVERY ROOM

€ 149,95

Autumn Leaves

Autumn leaves canvas painting.
A nice cup of tea, a fireplace and family or friends around you. That is the atmosphere with which this canvas of autumn leaves fits perfectly.This large photo painting is available as a whole or as…

€ 149,95

FOREST PATH

Beautiful photo painting of a path in the forest.
The sun rays through the trees and the fresh air of a morning in the forest. This photo painting of a forest path gives your living room or bedroom the relaxing atmosphere of a…

€ 149,95

AUTUMN PATH

Nice canvas of a forest in autumn colours.
With this beautiful photo painting of a forest path between the trees in autumn, you give your room a cozy atmosphere.

€ 149,95

Natures Colors

Canvas painting colorful sunset sea.
Are you looking for a colorful landscape painting or canvas poster to complete the decoration of your living room or office? Then buy this beautiful photo painting of a setting sun over the…

€ 149,95

Golden Beach

When you see this beautiful canvas painting of the surf on the beach, you can almost feel the warm sand under your feet.
Due to the beautiful warm, brown colors of the sand and the setting sun on the water, this decoration brings…

€ 149,95

Into the Sea

Painting pole heads in surf. Easily give your bedroom or living room a new look with this beautiful painting of bollards or bollards in the surf on the beach, in soft colours. Due to the pastel colors of the sunset and the view…

€ 149,95

Sea Shells

Nice summer painting with shells on canvas.
Bring the atmosphere of the beach to your home with this summery painting of shells and sand. In the photo you see next to the shell also a starfish in the beige sand of the beach.

This…

€ 149,95

STORM AT SEA

Beautiful photo painting of a stormy sea.
Breaking waves against the quay and foaming heads. With this wall decoration of a rough sea during a winter storm you can almost feel the wind in your face.The photo is almost black and…

€ 149,95

SCOTCH HIGHLANDER COW

Beautiful picture of a Scottish highlander that is resting wonderfully. Brilliant colors and depth. Available in various sizes and of course beautiful on plexiglass

€ 149,95
Want to buy a landscape painting? With a nature or landscape painting you can easily create a certain atmosphere in your room. Are you someone who likes long walks in the woods? Then a beautiful canvas of a green forest will look perfect on your wall! For beach lovers we have of course photo canvas paintings of the sea and beach in our online gallery.
A beautiful landscape photo painting for every interior In the webshop we have many different types of landscape photo canvas paintings for sale. A beautiful black and white landscape painting on canvas, for example, fits perfectly in a minimalist or modern interior. Do you have a living room with a rural interior? Then a photo of a polder landscape will look perfect on your wall. Do you have a romantic living style? Then you could, for example, hang a nice canvas landscape with flowers on the wall, to accentuate your living style. In the category landscape and nature we have beautiful photo art from every season and view. You can think of hilly landscapes, picturesque Italian villages, winter landscapes or beautiful sunsets. We even have separate categories for the canvases of the forest, waterfall and beach.
Art on canvas for every room
Are you still looking for modern photo art of nature for the office wall? Or just a nice work of art for at home in your bedroom or living room? Our paintings of landscapes are an eye-catcher in every room. Are you looking for wall decoration that creates a relaxed atmosphere? Then it is best to choose a green canvas. Are you looking for wall decoration that gives energy? Then you could think of a red or purple photo painting.
baklijsten
BAKLIJSTEN
Laat uw canvasdoek nu inlijsten in een zgn. baklijst!
Geeft extra diepgang en staat nog luxer...
mail naar info@canvas-fotokunst.nl voor prijzen op maat.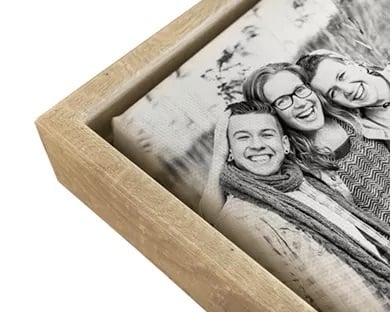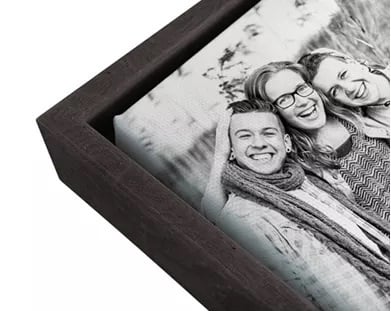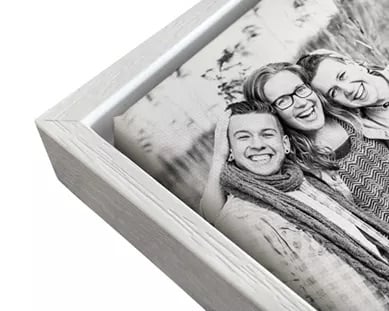 maatwerk
Ook printen wij op acrylglas, tuindoek, fotobehang, aluminium, dibond en diverse soorten hout!
Mail ons voor uw wensen en wij doen ons uiterste best om deze te vervullen.